We read all the entries, counted the public votes and now we have a winner! The lucky bride who won the Win a Wedding competition is Hayley and we had a chat with her this week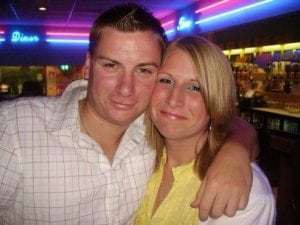 The happy (and lucky) couple
Hayley Pavey and her fiancé Matt Greening are the lucky couple. They've been together for 11 years; having met through friends and although they both always knew they'd met the 'one', they've never actually got engaged until now. "I saw the competition in the Dorset Echo and Matt told me to 'go for it' and now we've won!" said Hayley.
Hayley has just turned 30 and works full time as a nursery nurse and Matt, who's 31, also works full time as a plasterer. Their family is completed by Harry who will be four in July and who starts school in September. Hayley said: "Jack's very excited about the wedding and his initial choice of outfit was his swimming trunks and goggles – although he's coming round to the idea of a suit like his dad, especially for his important job as page boy."
Hayley said that, as they celebrated New Year's Eve, they had no idea they would be planning a wedding and getting married in 2018. "It is something we've always planned to do, but after buying a house and then Harry coming along, it didn't seem possible," she said. "We'd never have been able to do it without the competition and all the local suppliers who supported it."
Family and friends at the heart of the wedding plans
Weddings are for friends and families and Hayley & Matt's is no exception. They have already been inundated with offers of help to get everything ready in time like craft afternoons and people have been really generous in lending things. Both their best man and bridesmaids will be coming from their immediate circle but Hayley couldn't say too much as they haven't officially been asked yet!
Next up on the planning schedule is wedding dress shopping at Bridal Reloved Dorchester. "I've no idea what style of dress I'd like, but I'm really looking forward to visiting the shop next week to start trying some on," she said. Her mum is already planning her mother of the bride outfit and is arranging a special trip to Southampton to secure the perfect one.
Looking forward to the special day
Finally, we asked Hayley what she's most looking forward to about celebrating her wedding at Greenwood Grange. "Having the same surname as my husband and son will be great, but mostly it was having all our friends and family together for the special day."
Everyone here at Greenwood Grange and all the suppliers that made Hayley and Matt's dream a reality would like to send our best wishes for the big day.
The £9,000 prize
Here's details of the full prize won by Hayley and Matt: