Every bride hopes their wedding will be exactly the way they've always pictured it. But imagine if you could have your wedding entirely your way, in your own secluded village-style location…
At Greenwood Grange you can have exactly that – set up a marquee in our glorious open spaces, invite your own caterers to prepare the food on-site, stay in the beautiful stone built cottages, relax in your own private hot tub and enjoy our indoor pool before or after the your big day. You can ensure your wedding is a private, intimate celebration with loved ones here at Greenwood Grange.
We've put together some thoughts on how we can help make your wedding wonderful…
Our glorious grounds
Nestled in the beautiful Dorset countryside Greenwood Grange is a collection of stone built cottages set amongst gorgeous greenery and flora.
Our spacious grounds can accommodate large marquees to welcome up to 150 guests and will also provide varied and picturesque surroundings for your wedding-day photos. It is a unique venue that will allow you to not only start your day with us but also enjoy the celebrations late into the evening.
A grand entrance
Whether you're arriving and leaving by car through our grand gates, or stepping into a horse-drawn carriage you can be assured of the grandeur of the occasion – we can happily recommend the perfect transportation.
Here's a photo of one of our recent brides leaving to take her vows in a stunning carriage…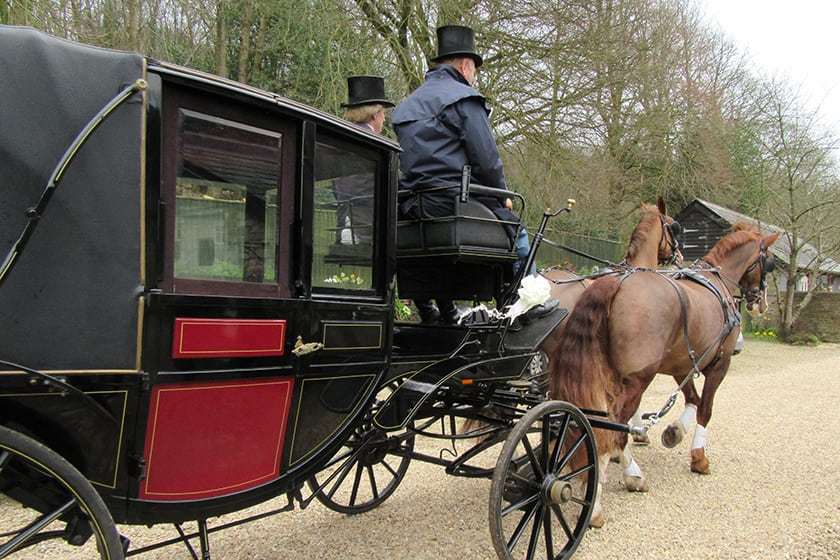 Accommodation
Finding one place for all your guests to stay can be tricky, but at Greenwood Grange we can accommodate up to 78 of your friends and family.
Whether it's two people looking to stay in a cottage, to friends and family wanting a touch a luxury with a hot tub in their garden, or even a larger group hoping to stay together in our grand Henchard property, there's something to suit everyone.
All of our properties are self-catering at Greenwood Grange, so why not stay for a few days and enjoy a break away from home.
Catering
Our larger properties have fantastic kitchen facilities, so if you're looking to prepare your own wedding food you'll have ample room to do so.
If you'd like to bring in an outside caterer then we can recommend a range suppliers – from gourmet chefs, to silver service caterers and even a supplier who will prepare a hog roast on site.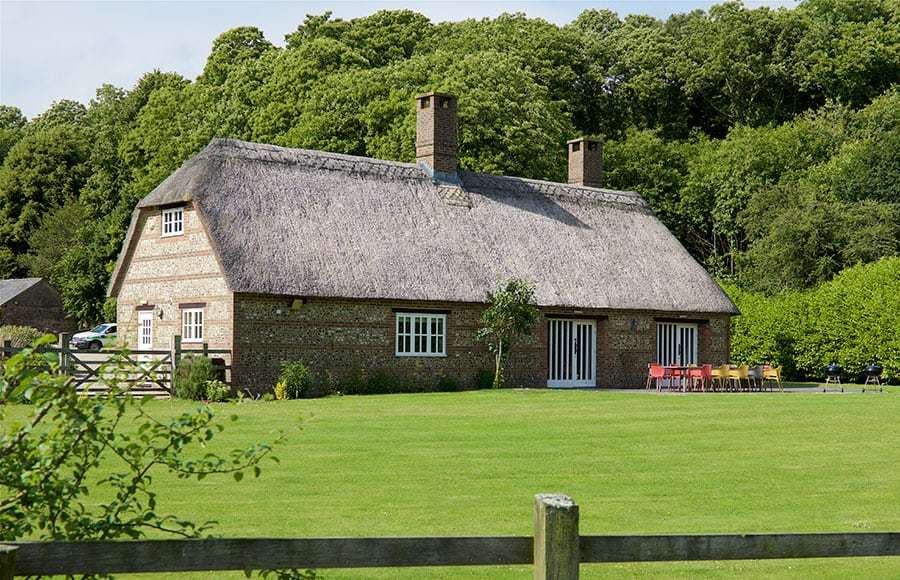 Bridal hair and makeup
Enjoy a relaxed morning on the day of your wedding by stepping into the hot tub, sipping champagne and waiting for your own personal hairdresser and make up specialist to come direct to your door.
Greenwood Grange works with several highly-recommended and award winning make-up artists and professionals who use only the very best products to ensure you look as beautiful as you deserve to on your special day.
Photography
Capturing every moment, every laugh, tear and smile throughout your gorgeous day is the art of a fantastic photographer. We have some of the best of best who will encapsulate your perfect day for you to keep forever.
Younger guests
If younger guests are invited to the wedding then what better way to keep them entertained in our play yurt. Filled with toys to keep the little ones busy – whatever the weather.
If the sun is shining then they can make the most of our outdoor play area and there's even a giant trampoline to use up their boundless energy!
At the end of a long day why not let the adults enjoy their evening by booking a DBS registered childminder. Just let us know in advance and we can take care of the booking for you.
Concierge
We offer a concierge service to look after the details that make the difference. From flowers to champagne and everything in between, just tell us what you need and we'll do all we can to make it happen.
For more information on all of the above call us on 01305 268874.